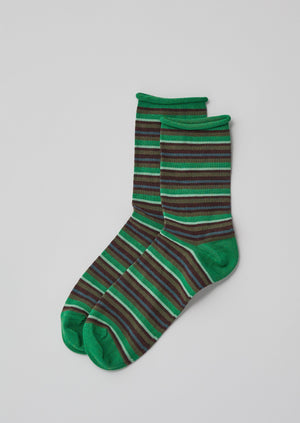 Soft socks patterned with slender stripes, then finished with a ribbed rolled cuff. Crafted from a soft cotton and cashmere blend woven in Italy, with an element of recycled polyamide to reduce impact on the environment.
Details
Machine wash 30ºC gentle cycle. 68% cotton, 20% recycled polyamide, 12% cashmere.
Made in Italy.
Regular fit. One size fits 37-40.
Delivery & Returns
Free standard delivery on full price orders over £125.
Standard Delivery: £3.00
Express Delivery: £5.00
Next Working Day Delivery: £7.00
Before 12pm Next Working Day Delivery: £13.00
Free returns (subject to our returns policy).
£3 returns charge on sale-only orders.
Please refer to our delivery & returns policies for more information.