TOAST Reworn
Previously loved pieces from past collections
Through TOAST Circle, we have been exploring resourceful methods to reduce our waste and keep wearable and well-crafted pieces in circulation. Our latest initiative, TOAST Reworn, offers an alternative to buying new, with pieces that have been previously loved or selected from past collections.

To prolong the journey of our pieces, we will now take all unwanted clothing, accessories and textiles back, regardless of quality or condition, to be donated, recycled, remade into new designs or resold with Reworn. Items can be returned to any of our UK shops or sent to us free of charge.
"It's an investment to take everything back, but we have a responsibility to do so. It is critical to reduce clothing being sent to landfill and to help our community take a more circular approach."
Suzie de Rohan Willner, TOAST CEO
How Does It Work?
We are extending the life of garments by offering an alternative to buying new. We are sorting, grading and cleaning all items to take full ownership of how garments will be assessed, reused and resold. We will find a new use for every item.
Shop Reworn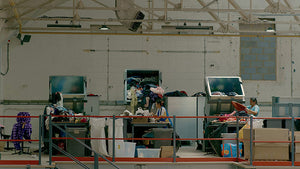 Our Charity Partner, TRAID
10% of revenue from the sale of all Reworn garments will be donated to our UK charity partner TRAID, which takes action to reduce the social and environmental impact of clothing. TOAST items that we are unable to repurpose through our Circle initiatives will be donated for them to responsibly reuse, giving them necessary funds to support garment workers and their families. 
Our Partnership with TRAID
The Joy of Previously Loved Clothing
To celebrate the launch of TOAST Reworn, we photographed members of our community who share a collective passion for shopping more sustainably.
Meet our Community
TRAID is a registered charity in England and Wales (297489), partnering with Rights Education And Development Centre (READ). READ is registered under the Tamil Nadu Societies Registration Act 1975.